Junque in the Trunk
August 31, 2019 @ 9:00 am

-

2:00 pm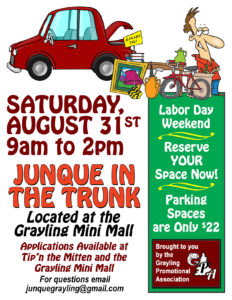 JUNQUE IN THE TRUNK
SATURDAY, AUGUST 31, 2019
GRAYLING MINI-MALL
9:00 AM TO 2:00 PM
We are inviting you to join us for our annual community garage sale. Reserve your parking space(s) for $22. Open your trunk and/or set up tables to sell your "treasures." You keep all proceeds from your sales. Reservation fees are used by GPA to support community endeavors. We look forward to your participation in this fun and profitable event.
Sale Information:
Fees paid for reserved spaces are non-refundable
Please stay within the allotted parking space(s)
Spaces must be cleared of unsold items by 2:30 pm
The parking spot is 9 feet by 15 feet. If you have a 10x10tent you will need a space and a half. The fee for this is $30.00
Setup may begin at 8:00 am
Sale will be held "rain or shine."
Enclosed is my check for $ for space(s)
Name/Address
Phone/Email
Make checks payable to: GPA Space will be reserved upon receipt of payment.
Send to:
GPA – Junque in the Trunk
P O Box 150
Grayling, Michigan 49738
Visit us on Facebook