Pictionary
April 22, 2016 @ 7:00 pm

-

10:00 pm
Pictionary is one of GPA's favorite community events. Numerous four-person groups compete to win the coveted top trophy. Each person is given a secret word, known only to themselves and the audience and has to draw it for the rest of the team. The other three people on their team have a minute to guess the correct word. Some teams come dressed in matching tee-shirts, some are theme-dressed. They often bring a cheering squad or support crew.
The Grayling Promotional Association Welcomes you to the
 29th Annual Pictionary Olympics
April 22, 2016 – Grayling Eagles – 7:00 P.M.
If you are one of the great Pictionary teams that participated in 2015, we do not have to tell you what a grand time was had by all.  It is always one of the funniest and craziest nights of the year!  Last year the teams were very close.
If you are a past participant…We have missed you!  Where have you been?
 If you have never participated, we encourage you to be a part of a truly memorable experience that can enhance your team spirit at your business.
If your company or group has a competitor or two in town, CHALLENGE them, especially if you represent a real estate company, hair salon, restaurant or any growing business!
 It's easy to enter, and at the end of the long winter, we all need some laughter and fun to pull out of the doldrums that creep up on us during those cold nights.
Just fill out the enclosed application, enclose your check and mail it to us, or drop it off at the Chamber Office, or hand it to one of the many GPA members you see in town.  We will be delighted to have you join us!
Please note:

We have room for ONLY 20 teams.  Please make sure you get your entry form in as soon as you can!    Seating is limited!  We look forward to seeing you!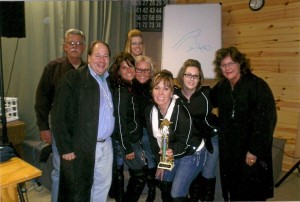 Please note: in deference to our still struggling economy, we will keep the entry fee at $40 to make it easier for everyone to join us and share the fun. All proceeds go to help sponsor local groups and events and to promote Grayling.