Pictionary
April 26, 2019 @ 7:00 pm

-

10:00 pm
IT WOULD NOT BE SPRING IF GPA DIDN'T HOLD PICTIONARY OLYMPICS. THE DATE IS APRIL 26TH. IT WILL BE HELD AT THE EAGLES HALL IN GRAYLING STARTING AT 7:00 P.M.
THE PICTIONARY COMMITTEE HAS SELECTED RIVER HOUSE INC. TO COLLECT ITEMS AND MONEY FOR DURING THE EVENING. IN THE PAST PICTIONARY HAS DONATED TO: THE CHRISTIAN HELP CENTER, BABY TO TODDLER CLOSET, THE ANIMAL SHELTER, AND ETC. OUR TEAMS AND FRIENDS HAVE BEEN WONDERFULLY GENEROUS TO THE CHARITIES AT THIS EVENT.
TROPHIES WILL BE AWARDED TO THE TOP THREE TEAMS AS WELL AS A "DOESN'T HAVE A CLUE" TO THE LOWEST SCORING TEAM. IN ADDITION TO THE TROPHY, THE FIRST PLACE TEAM WILL RECEIVE A $100.00 CERTIFICATE TO A LOCAL RESTAURANT. DURING THE HALF TIME BREAK, THE BEST DRESSED TEAM COSTUME WILL BE PRESENTED.
WE THINK THE PICTIONARY EVENING IS ONE OF THE MOST ENTERTAINING EVENTS OF THE YEAR. IF YOU LIKE FUN COMPETITION PLEASE PUT TOGETHER A TEAM – 4 FRIENDS OR CO-WORKERS – AND SIGN UP. THE COST IS $40 PER TEAM. DO NOT DELAY SINCE THERE IS ONLY ROOM FOR 25 TEAMS!
ALL YOU HAVE TO DO IS COMPLETE THE ATTACHED ENTRY FORM AND MAIL IT ALONG WITH A CHECK FOR $40.00 TO:
GRAYLING PROMOTIONAL ASSOCIATION
ATTENTION PICTIONARY COMMITTEE
P.O. BOX 150
GRAYLING, MI 49738
YOU CAN ALSO CONTACT ME AT – keschafer@juno.com.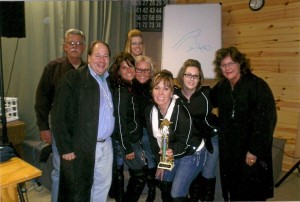 32nd ANNUAL PICTIONARY OLYMPICS Sponsored by the Grayling Promotional Association
FRIDAY, APRIL 26—7:00 P.M. EAGLES SOCIAL HALL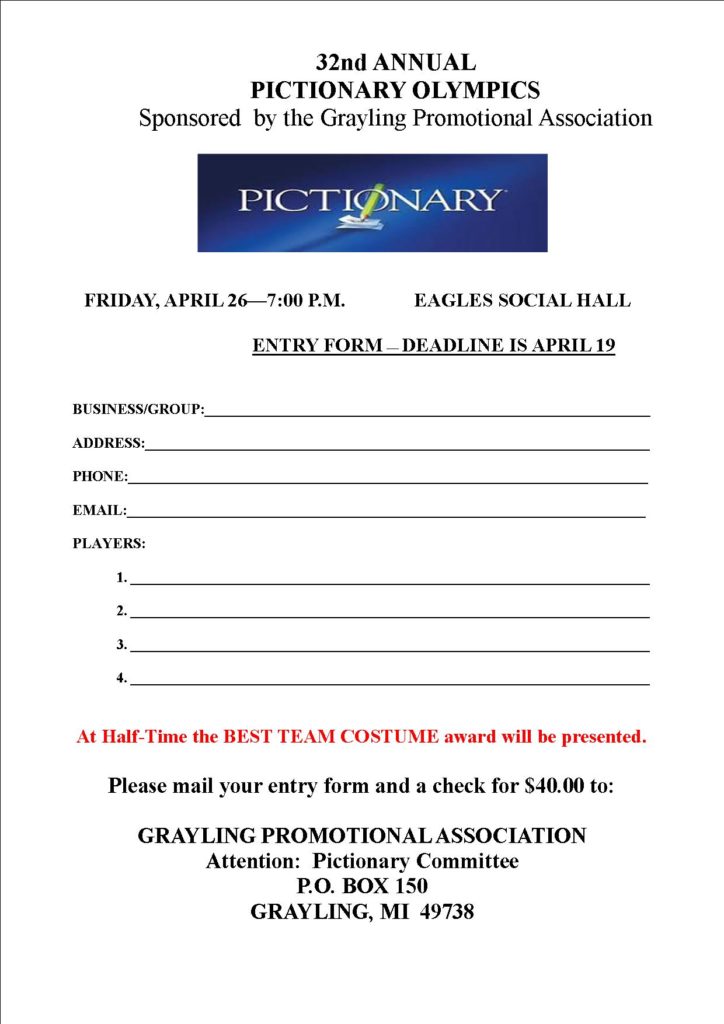 GPA Pictionary Entry form 30th ANNUAL