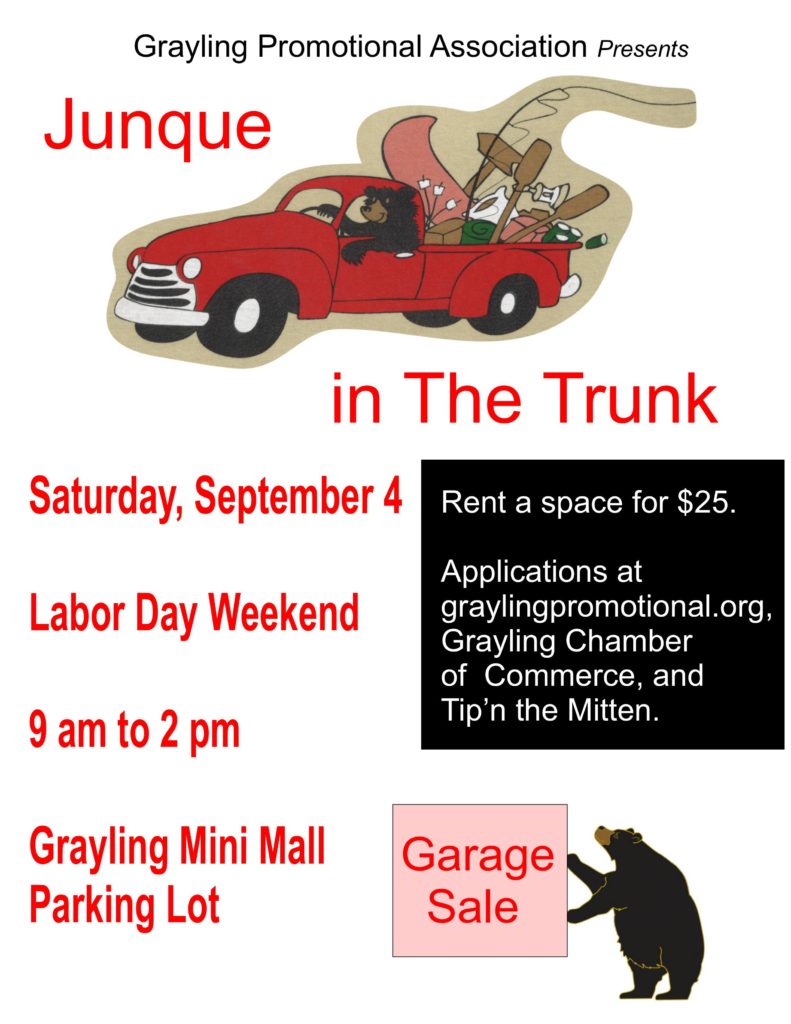 To open application, click here. JITT fall 21
GRAYLING PROMOTIONAL ASSOCIATION'S (GPA)
2021 FALL Junque in The Trunk
Saturday, September 4, 2021
9:00 AM to 2:00 PM
Grayling Mini Mall
Welcome to the fall Junque in The Trunk, annually held on Labor Day Weekend. Reserve your parking space(s) for $25. Open your trunk and/or set up your tables to sell your "treasures." Take advantage of a central location, large audience, and free advertising. (GPA will advertise the event.) You keep all of your sale's proceeds. Reservation fees are used by GPA to support community endeavors. We look forward to your participation in this fun and profitable event.
Sale information:
Spaces are $25, except for end caps, which are $30. Spaces are 9 feet by 15 feet. If you have a 10 X 10 tent and/or an abundance of items, you may reserve two $25 spaces for $45.
Fees for reserved spaces are non-refundable.
Sale will be held "rain or shine."
Setup is at 8:00 am. Spaces must be cleared of unsold items by 2:30 pm.
Enclosed is my check for $ for space(s).
Name:
Address: ____________________
Phone Number: Can you receive text messages?
Make check payable to GPA.
Mail check and application to: GPA – Junque in The Trunk
PO Box 150
Grayling, MI 49738
Space(s) will not be reserved until receipt of check and application. Spaces are reserved on a first come, first served basis according to postmark.
Checks and applications will not be accepted after Monday, August 30.
Thank you for participating. Have fun and sell lots!
If you have questions, call Kathy at 989 745-4521.